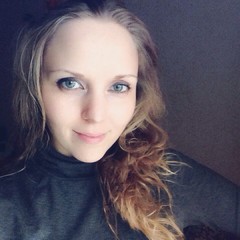 Ekaterina Maximova
Freelance Artist and Animator
Herceg Novi, Serbia
Summary
My name is Ekaterina Maximova, I'm an Artist and Animator. Here you can find my reels and artworks.
As far back as I can remember, I always wanted to be an Artist, and I always knew one day I will. That's why I made a decision to study Arts. And now my experience counts more than 5 years. During this period I occupied different positions such as Animator, Lead-animator, Artist, Storyboarder, BG and Characters designer. I worked in game industry and took part in feature movies. Most of all I like 2D animation and planning to continue my career in this field.
At the moment I'm looking opportunities to work in a studio.
Skills
2D Animation
Storyboarding
Character Design
Character Animation
flash
animation
2d
cutout animation
Software proficiency
Experience
Artist and 2dAnimator at Freelance

Latest projects:

"Captain Underpants"series (Titmouse inc., Canada) 2018 -

"Rise of The Teenage Mutant Ninja Turtles" series (Flying Bark Productions, Australia, 2018),

"Angry Gran" series (Aceviral, Sunderland UK, 2018),

"The pirate school" series (St.Petersburg, Russia, 2017),

"I find you" short animation film (Poland) (2017-2018)


Lead animator/Layout animator at Flashcafe animation Studio

St.Petersburg, Russia

January 2009 - January 2010

Internet series «City of Wellness» and several commercials

● Creating animatics of the storyboard

● Directing and ensuring the quality control of the animators (Adobe Flash).

LeadAnimator at TFS

St.Petersburg, Russia

January 2008 - January 2009

2D and 3D projects

● Character development

● FlashAnimation

● 3D characters Animation (3ds Max)

● Storyboarding

● Creating animatics (Adobe Flash).

LeadAnimator, 3d Animator at Atria Animation studio

St.Petersburg, Russia

January 2008 - January 2008

Participated in the creation of 3D animatics for the feature film «The long Way Home», creation of animation for the advertising of tea «Tea Maitre» and cartoon movies «Smeshariki»

● LeadAnimator

● Head of the 3D Animation Department

● Instructor

Artist and Animator at Sandlot Games SPb

St.Petersburg, Russia

January 2007 - January 2008

Game animation

● BG and character design and sketching


Lead Artist - Animator at Melnitsa Animation Studio

St.Peterburg, Russia

January 2005 - January 2007

● Artist and Animator

● Head of the 2D Animation Department

Projects:

● "Dobrynya Nikitich i Zmey Gorynych" 2006,

● "Ilya Muromets i Solovey Razboynik" 2007,

● several commercials (soft drink "Kvas Nikola")

Reference available upon request (Ilya Maximov ( Rus. \ Eng.), Konstantin Bronzit (Eng.)